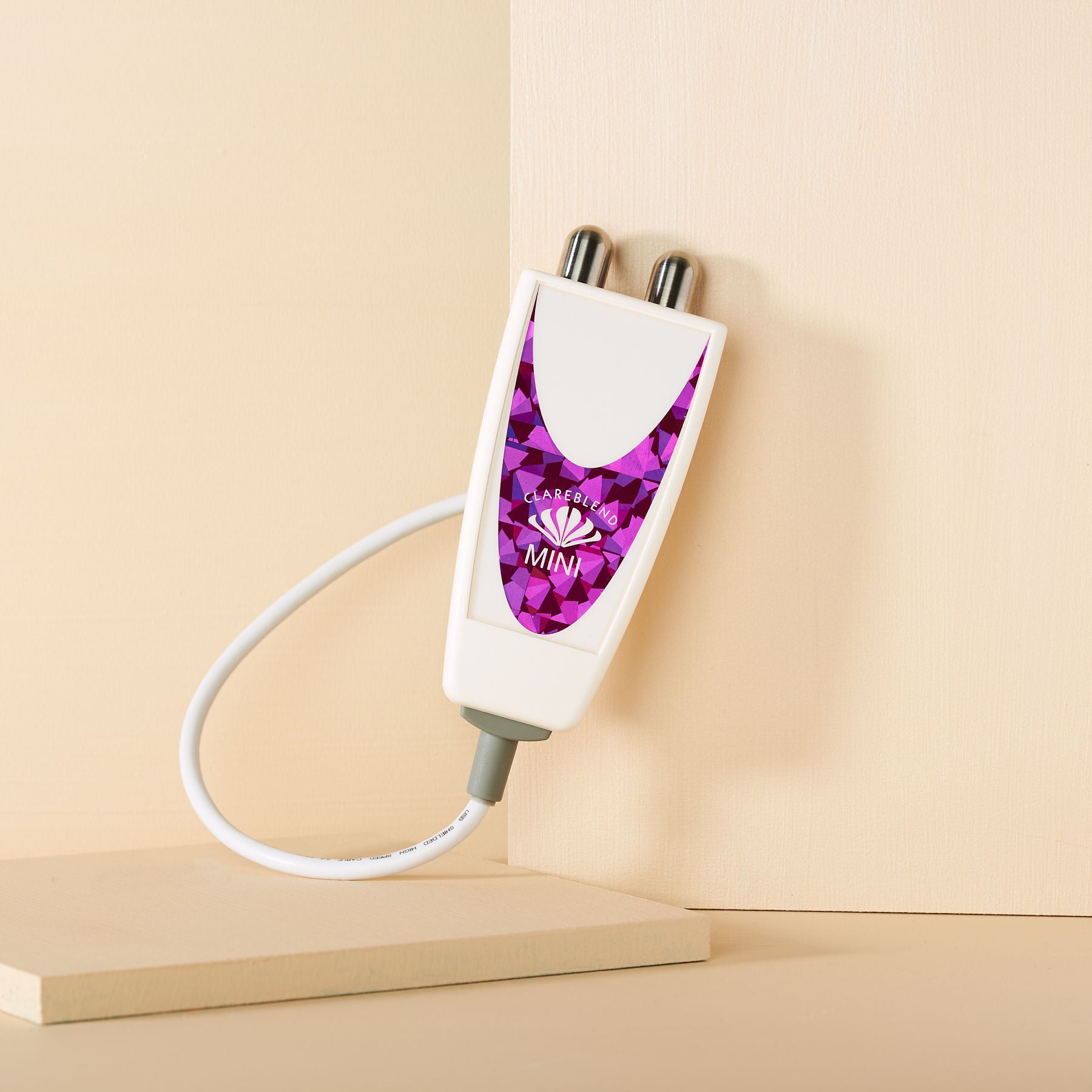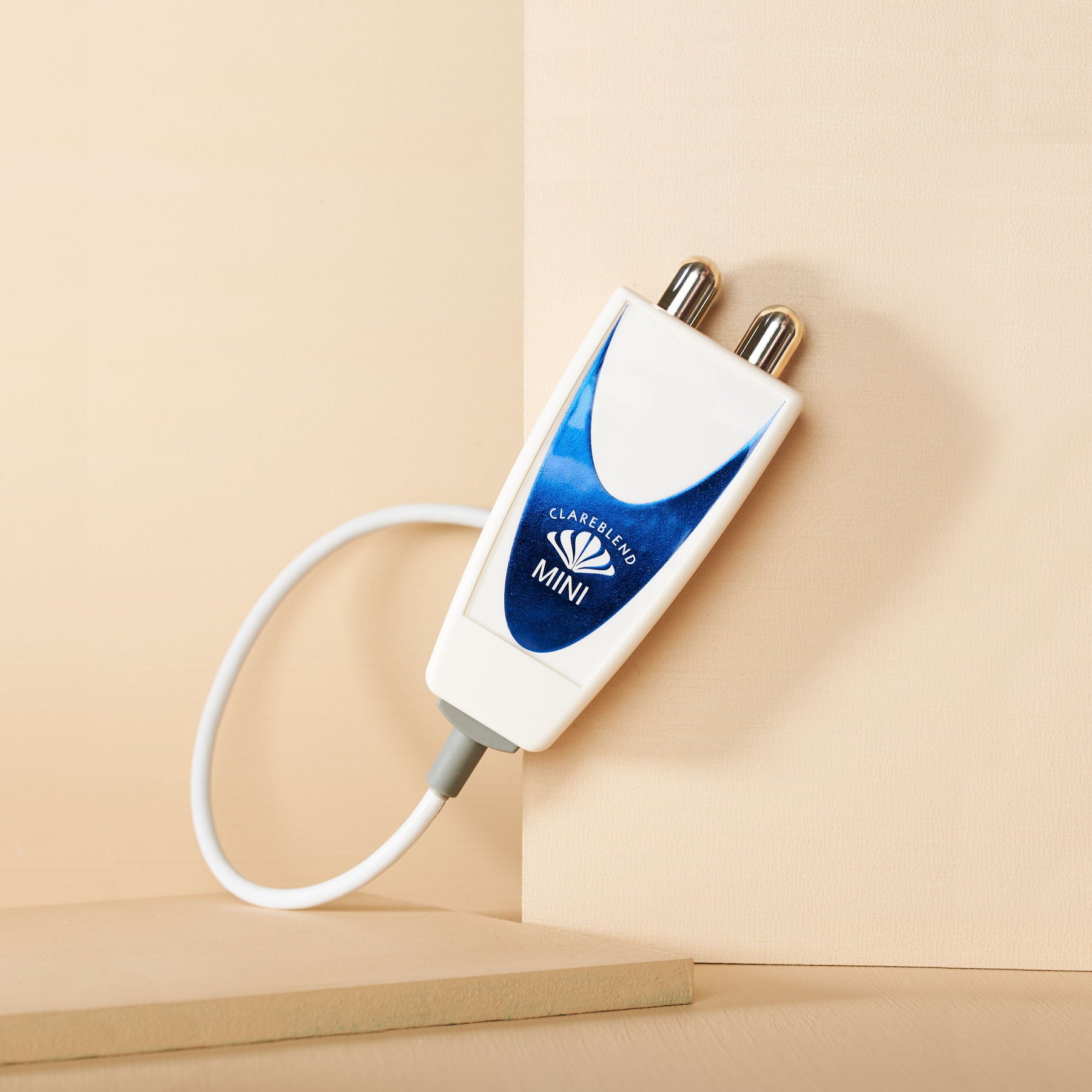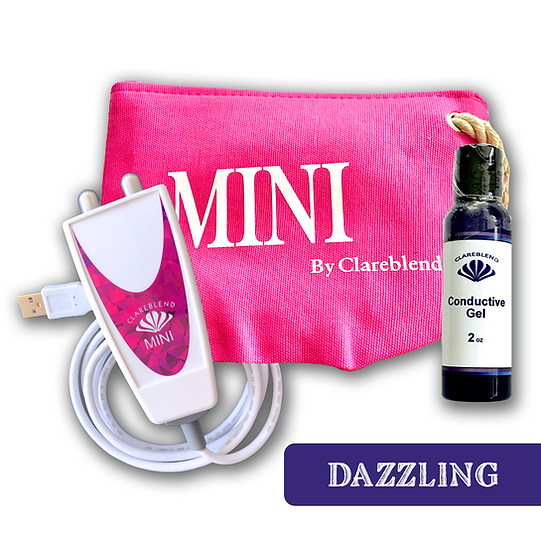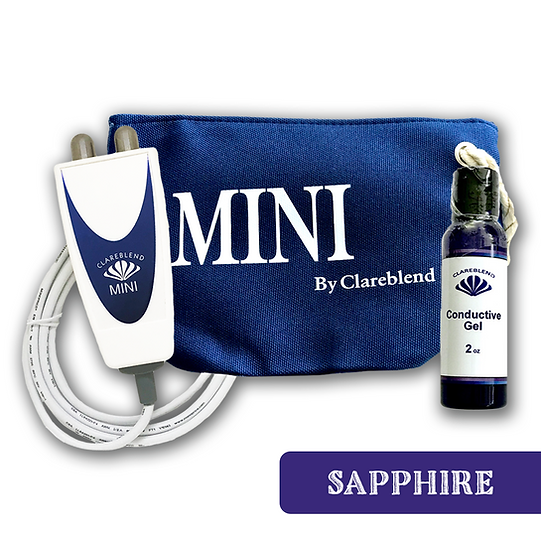 Clareblend MINI Microcurrent Handheld
Free Economy Shipping on orders $10+. Free Priority Shipping on orders $195+.
The Clareblend MINI is the most advanced professional quality microcurrent device that we have found for home use and provides exceptional lifting and toning.  Clinically tested, the Clareblend MINI, "minimize imperfections, naturally improve", is shown to improve facial contour, tone, and reduce the appearance of fine lines and wrinkles.
For muscle tissue to contract properly they need energy in the form of ATP.  Clareblend MINI increases the supply of ATP to the muscle fibers. This plays a crucial role in cell metabolism and the plumping of slack muscles. The specialized current used by the Clareblend MINI also enhances fibroblast activity (collagen), protein synthesis (elastin) blood circulation and wound healing. Studies show a 45% increase in the number of elastin fibers in the dermis and the length of the fibers on average doubled. The collagen thickness in the connective tissues increased by 10%, and the number of blood vessels increased by 35%. This produces a firmer and tighter feeling and appearance on the skin surface.

Many of the microcurrent devices 'seen on TV' use too high microamperes (550+). This causes flaccid and lifeless muscles that are completely taxed of ATP. The exact opposite of what the Clareblend MINI provides.
TECHNOLOGY:

No battery to replace or charge
Plugs into USB ports
Proven pre-determined settings provide great results without the guesswork
Gold connector for reliable power
INCLUDES:
WARNINGS & PRECAUTIONS:
The MINI facial procedure is intended for facial stimulation and should not be used if the following indications are present:
- Pregnancy
- Seizures
- Cancer or tumors
- Cardiac pacemaker, or any electronic implanted defibrillator, simulators, or electronic devices as possible interference with these devices may occur
- Do not use if prone to phlebitis, thrombosis, or on varicose veins
Use MINI only on normal skin. Do not use on skin that is swollen, infected, or has cancerous lesions.
MINI is designed for cosmetic use only and for individuals in good health. As with any medical condition or after facial surgery of any kind, please consult your physician before use.
MINI is for adult use only and should be kept out of the reach of children.
Wait a minimum of 10 days before using MINI after the following procedures:
- Botox
- Injections and/or fillers
- Microneedling or microchanneling (once the skin has fully healed)