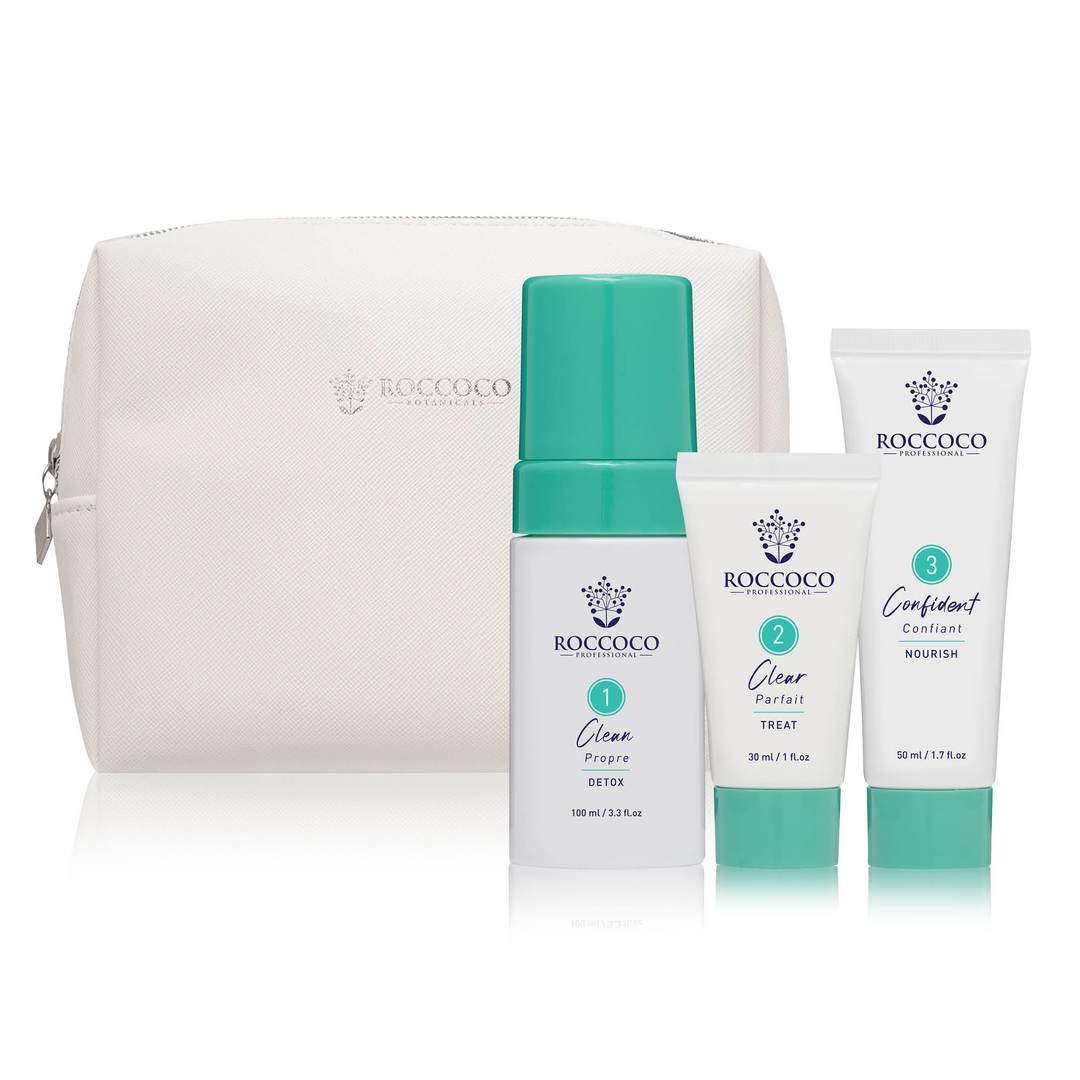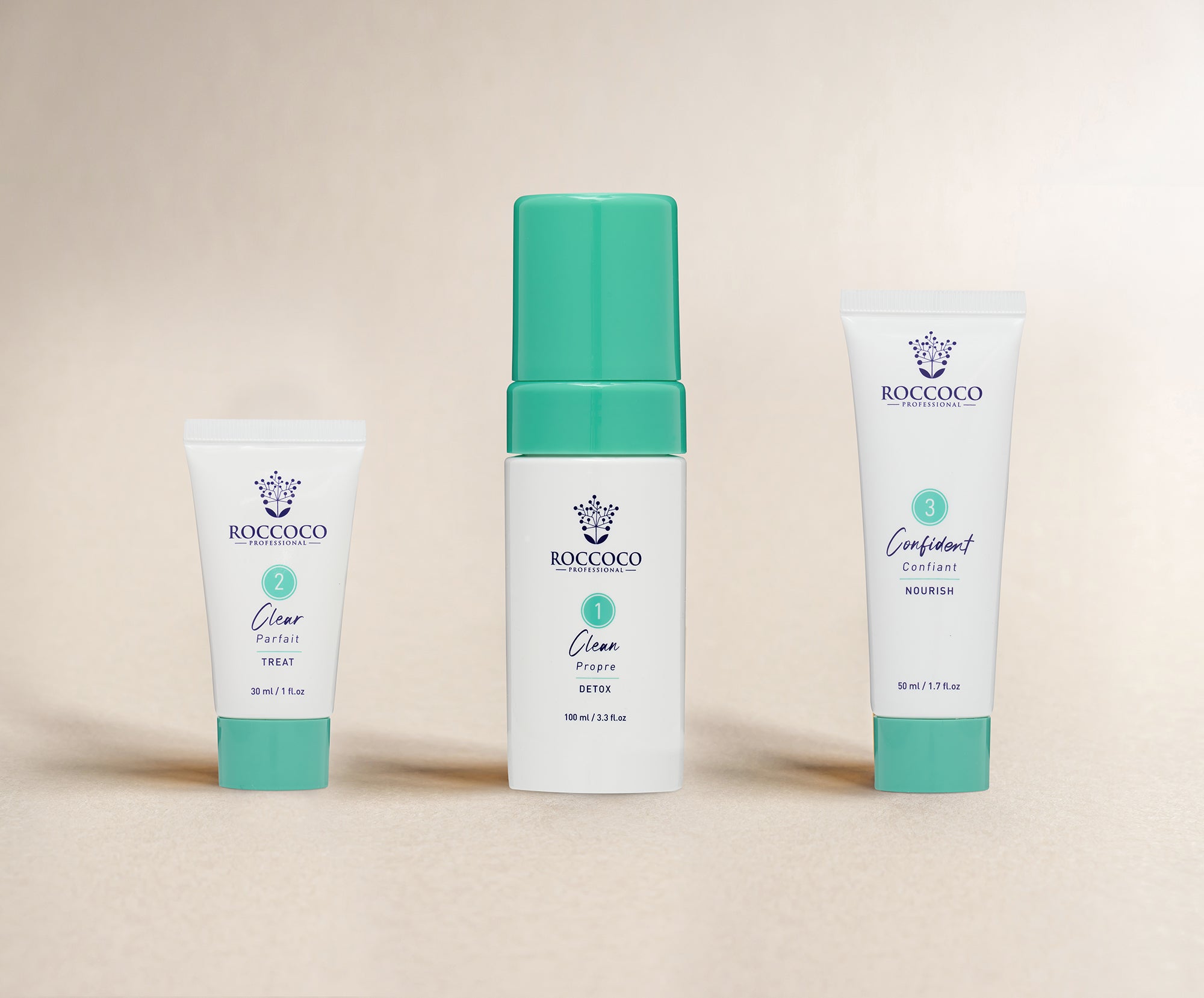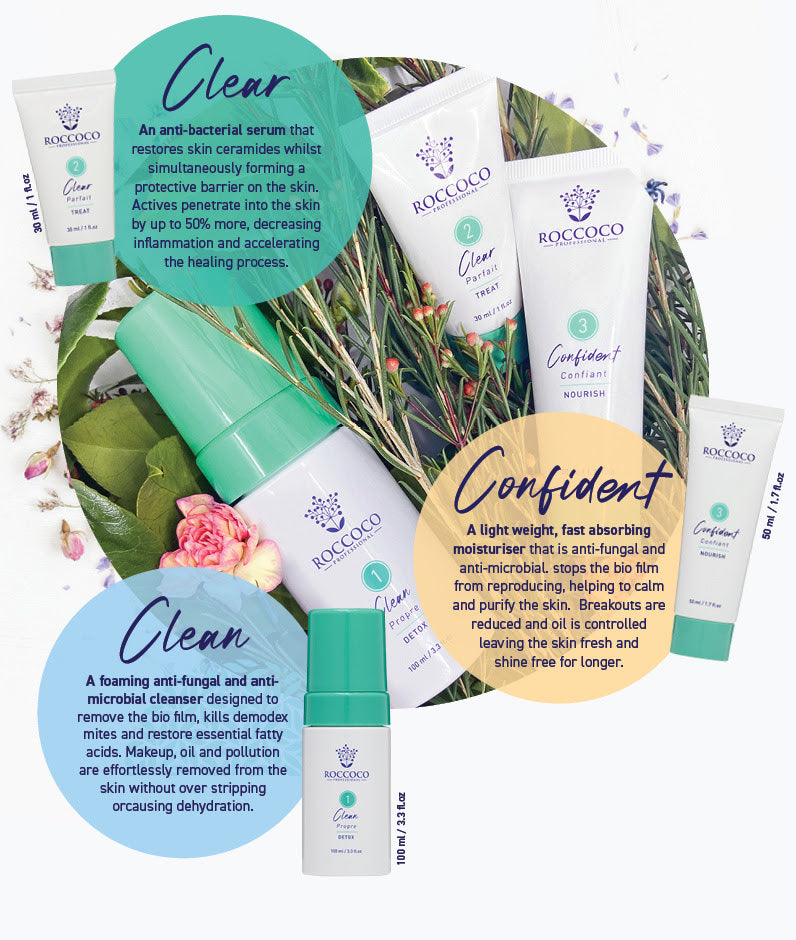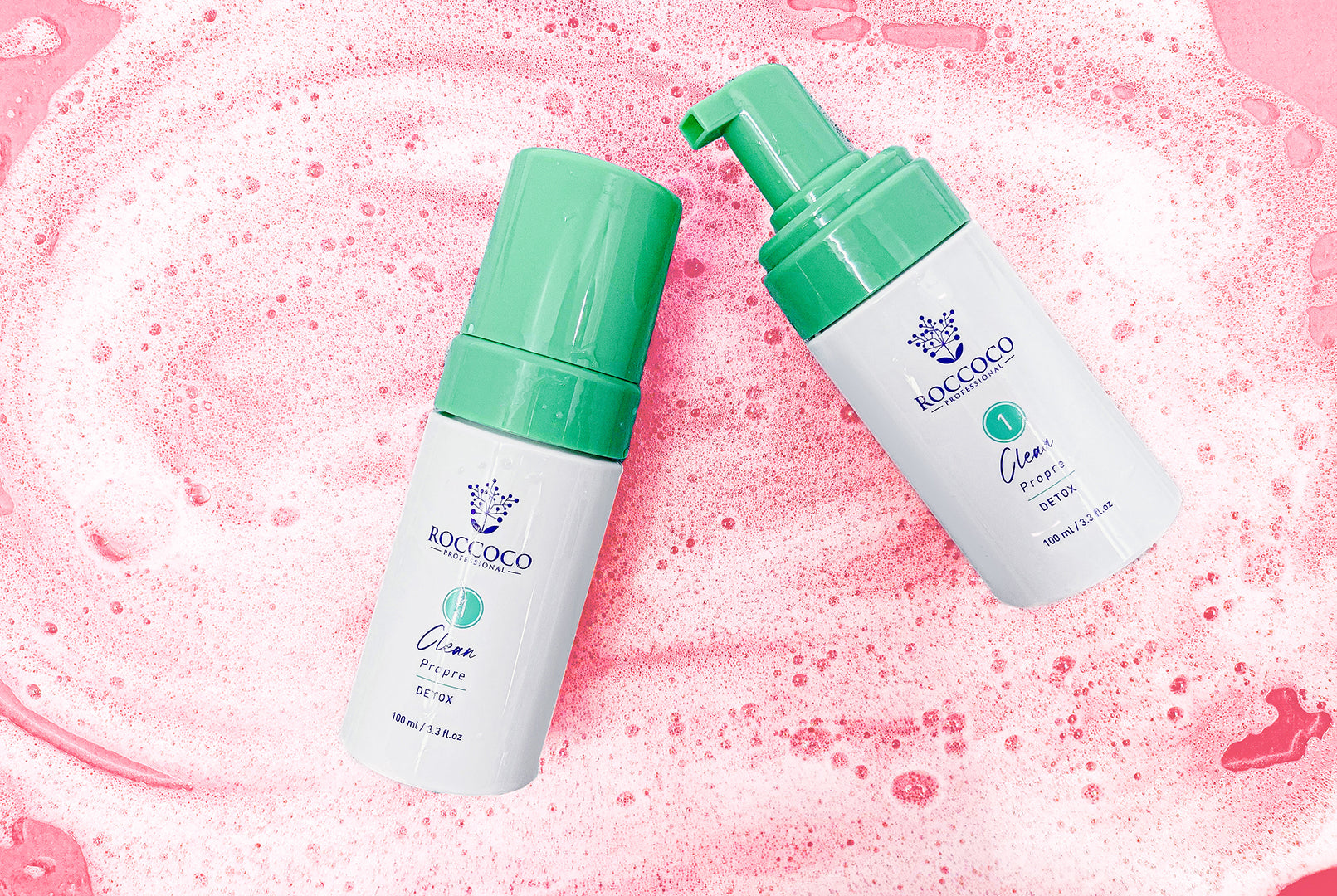 Clean, Clear, Confident Teen - Collection
Free Economy Shipping on orders $10+. Free Priority Shipping on orders $195+.
Clean Clear Confident Teen by Roccoco Botanicals is designed as a 3-step anti-blemish system specifically designed for problematic teenage skin. Introducing a fuss-free botanical solution for managing problematic teenage skin naturally. Combining Active Botanicals and Vitamins to help unclog pores and mattify the skin without dehydration while its calming concoction of prebiotics assists in the reduction of inflammation for healthier and smoother glowing skin.
Acne safe.
Step 1. Clean Cleanser: Detox - A foaming anti-fungal and anti-microbial cleanser designed to remove the biofilm, kill Demodex mites, and restore essential fatty acid. Makeup, oil, and solution are effortlessly removed from the skin without over-stripping or causing dehydration.
Step 2. Clear Serum: Treat - An anti-bacterial serum that restores skin ceramides while simultaneously forming a protective barrier on the skin. Actives penetrate into the skin up to 50% more, decreasing inflammation and accelerating the healing process.
Step 3. Confident Moisturizer: Nourish - A lightweight, fast-absorbing moisturizer that is anti-fungal and anti-microbial. Stops the biofilm from reproducing, helping to calm and purify the skin. Breakouts are reduced and oil is controlled leaving the skin fresh and shine-free for longer.
Will all teens experience acne?
Teenage acne is more common than not, with 95% of teens experiencing acne at some point. The teenage years are full of independence, as well as peer pressure and fitting in. And for many, it can be a challenging time in their life especially those dealing with breakouts. 
How is teen acne different than adult acne?
Teenage acne is very different from adult acne. During adolescence growth hormones surge, causing the oil glands to become overactive and pumping out more sebum. This growth hormone also influences an overproduction of skin cells in teenage skin, resulting in a face full of blackheads and pimples. In addition, growth hormone is responsible for the skin becoming thicker and more textured. Adults who experience acne will produce less sebum but more inflammatory breakouts. Teens, on the other hand, will be much more oily and congested with a higher amount of blackheads and whiteheads. After puberty, levels of growth hormone return to normal. 
Why does teenage acne get out of control?
Growth hormone is not the only hormone at play. Closely associated is another hormone called Insulin-Like Growth Factor (IGF) which results from too much stress inside and outside the body, increasing frustrating amounts of sebum and skin cells. These hormones influence the environment that creates the congestion, breakouts, and stubborn bacteria lingering on the skin. 
Is acne bacteria the only bacteria involved in teen acne? 
These two hormones also have an effect on the skin's microbiome, where microorganisms live. It is the hyper-activation of the body's immune response that alters its state which leads to further issues. Because of this, several species of acne bacteria growing during this time, many of which are particularly inflammatory. Another consequence of this microbiome alteration is an increase in the growth of yeasts and fungi on the skin. Yeasts such as Malasezzia require sebum as a food source. During the teen years, sebum is produced in abundance, leaving an overgrowth of fungi and yeast on the skin. These micro-organisms can become difficult to remove, due to the nature of them forming a protective glue around themselves called a Biofilm.
Don't all cleansers clean the skin?
With teenage skin being oilier, they need a cleanser that effectively cleanses, without stripping the skin, drying it out. Scrubbing the skin isn't the answer either, because the bacteria are all stuck together in the biofilm glue, which literally anchors them to live skin cells. Normal cleansers simply don't remove them. The Clean cleanser step is specifically designed for teen skin. Exclusive to Roccoco, it contains a yeast ferment that removes the biofilm for a super clean result, without feeling stripped or dry. It also contains anti-inflammatory essential fatty acids to restore the skin barrier.

Can teenage acne be managed without topicals?
With the skin's microbiome being altered, prebiotics have never been more crucial.  Prebiotics provide the food source for benefical "healthy" bacteria on the skin, balancing out the strains and minimizing inflammatory strains that create the vicious cycle. The Clear serum step contains prebiotics of Inulin, which outperforms hyaluronic acid's hydration. Based on chicory root, it helps to restore the microbiome.

Isn't using a moisturizer going to create more oiliness?

Hydration is key because dehydrating the skin can have negative consequences for healing and also scarring. The ideal moisturizer for teenage skin will regulate the excess sebum and overproduction of skin cells. The Confident moisturizer step contains colloidal oatmeal, which is renowned for its soothing properties for atopic and allergic skin conditions. It also contains Magnolia, a powerful anti-inflammatory active that inhibits the growth of acne bacteria and fungi. It is ideal for restoring the skin barrier and aiding hydration of the skin.
Who is this kit suited for?

Clean Clear Confident Teen Kit by Roccoco Botanicals is specifically formulated for pre-teens and teens ages 11-18, who have blackheads, whiteheads, and less than 10 pimples a month. This kit is not recommended for inflammatory teenage acne or adult acne.

Will the products be sold separately?

Yes, each step is sold individually at grittybeauty.com!
Clean

Aqua, Glycerin, Sodium Olivoyl/Cocoyl, Sodium Lauroyl Sarcosinate, Linoleamidopropyl PG-Dimonium Chloride Phosphate, Yeast Ferment Extract, Glycolipid, 4-Terpineol, Sodium Benzoate, Potassium Sorbate, Tetrasodium Glutamate Diacetate.

Clear

Aqua, Propanediol, Undecane, Tridecane, Glycerin, Inulin Lauryl Carbamate, Butylene Glycol, Inulin, Succinoglycan, Maclura Cochinchinensis, Lecithin, Salix Alba (Willow) Bark Extract, Salicyloyl Phytosphingosine, Bakuchiol, Magnolia Grandiflora Leaf Extract, Sodium Benzoate, Potassium Sorbate, Tocopherol (Sunflower Derived), Sodium Phytate.

Confident

Aqua, Caprylyl Caprylate/Caprate, Niacinamide, Glycerin, Ethyl Linoleate, Propanediol, Cetearyl Alcohol, Cetearyl Glucoside, 10-Hydroxydecanoic Acid, Undecylenic Glycerides, Nordihydroguaiaretic Acid, Succinoglycan, Glyceryl Undecylenate, Terminalia Ferdinandiana Fruit Extract, Glyceryl Caprylate, Magnolia Officinalis Bark Extract, Citrus aurantifolia (Caviar Lime) Extract, Agapanthus africanus Extract, Trifluoracetyl Tripeptide-2, Tocopherol (Sunflower Derived).
So far so good!
My sons face had started to break out. He starting using this routine it has significantly improved!