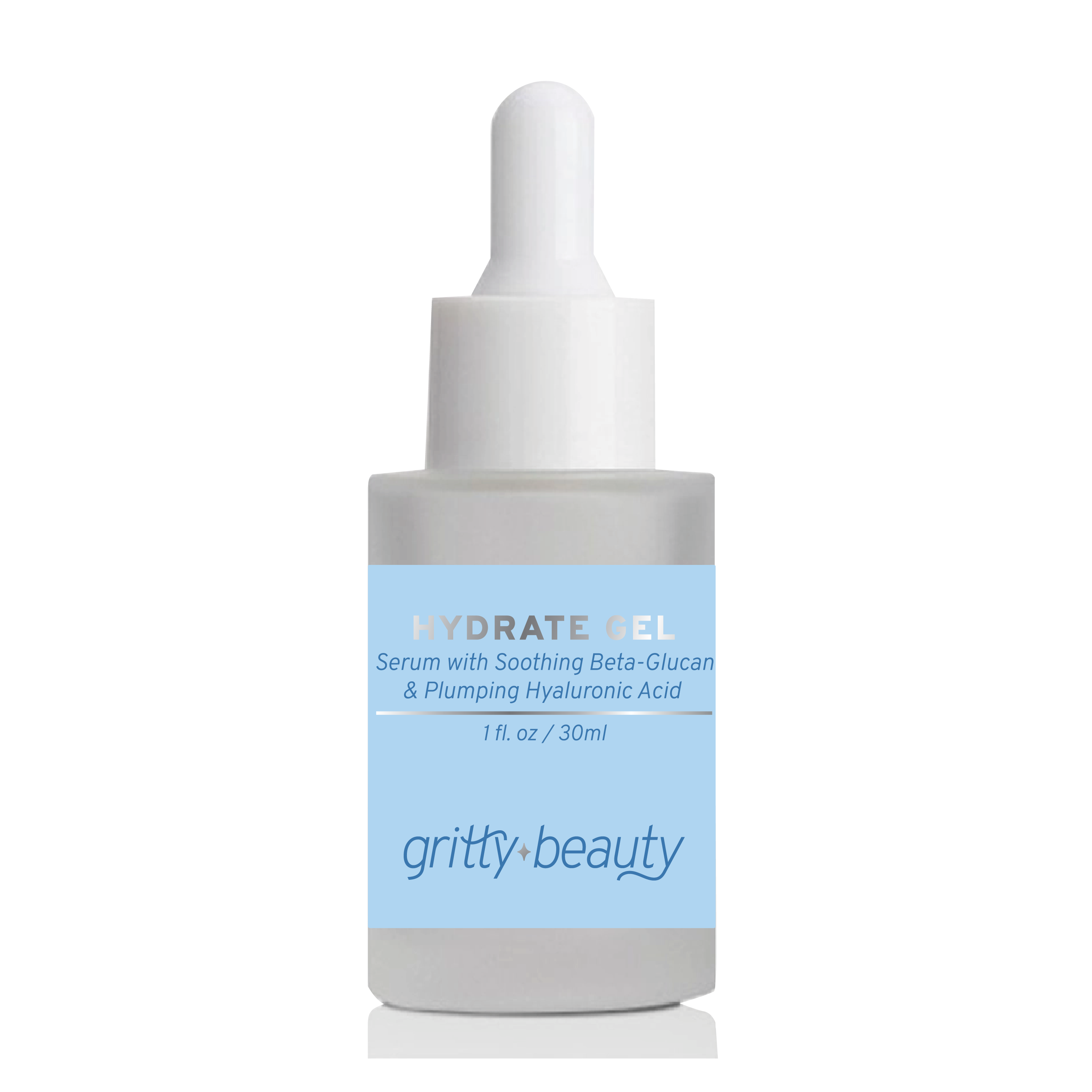 Free Economy Shipping on orders $10+. Free Priority Shipping on orders $195+.
Gritty Beauty Hydrate Gel is an incredibly soothing hydrating serum that quenches your dry, tight skin. It erases redness, flaking, irritation, and discomfort. Use it as part of your daily regimen to restore hydration and prevent water loss.
Hydrate Gel typically lasts about 60 days when you apply 3-5-drops to face and neck AM and PM.
best for acne, rosacea, pigmentation, aging, and dryness
Focus on hydration to finally get comfortable and healthy skin
Did you know that hydrating serums are rarely prioritized, yet they are the most important step in getting healthier skin? This hydrate gel may be the missing link in your skincare lineup.
The silky smooth formula nurtures and supports your delicate skin to prevent it from sliding downward and also helps with absorption of other essential skincare products.
Start using the Gritty Beauty Hydrate Gel today to get the results you're looking for.
Contains all the essential ingredients for healthier skin
Healthy and radiant skin cannot be obtained when the skin is dry, irritated, or dehydrated. This is why hydrating your skin cells is such a critical component to your skincare routine. Hydration activates the enzymes in your skin, which aids in cellular turnover, clearer pores, and more refined skin.
But what goes into a hydrating serum? What makes the Gritty Beauty Hydrate Gel so effective?
The Gritty Beauty Hydrate Gel contains 6 humectants for maximum hydration.
○ Beta-Glucan - Soothes and calms breakouts and irritated skin
○ Sodium PCA - Replenishes skin's own Natural Moisturizing Factor
○ Aloe - Heals inflamed and over-treated skin
○ Glycerin - Balances skin moisture levels
○ Hyaluronic acid - A naturally occurring humectant
○ Fruit Extracts - Protects and repairs skin